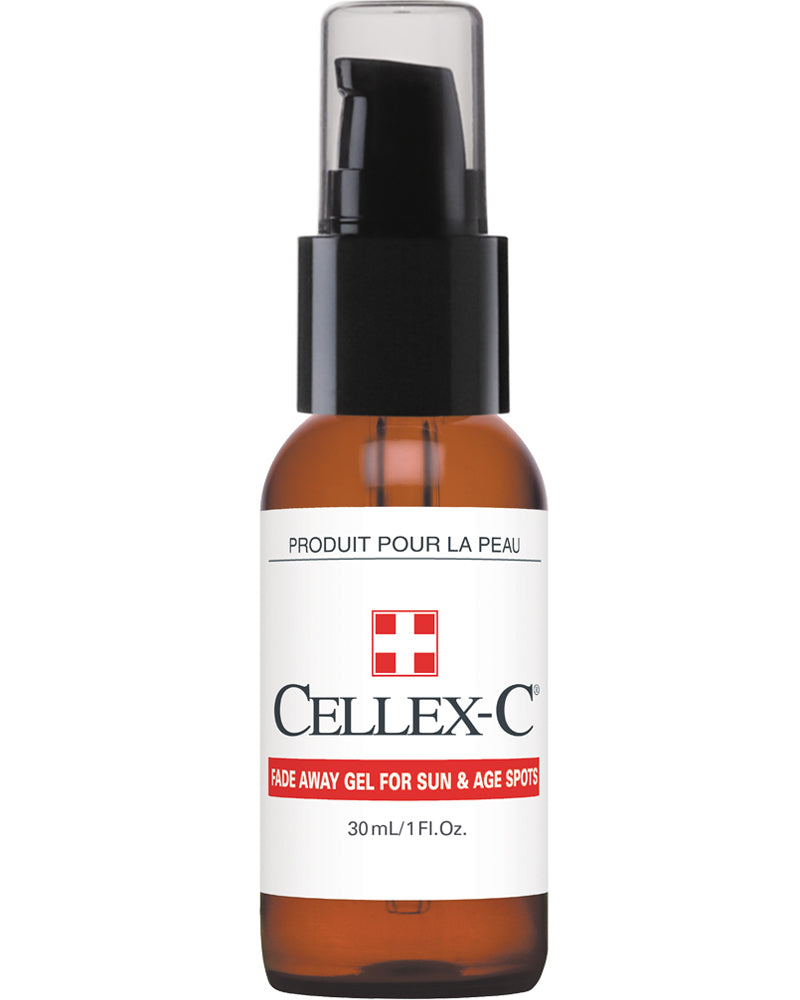 Cellex-C Complex
Fade Away Gel For Sun & Age Spots
---
Get help buying. Call 1-844-423-5539
---
DESCRIPTION
A topical, green tea colored, oil-free, aqueous solution containing the full complement of Cellex-C Complex signature plant glycosides. Helps to lighten the appearance of sun and age spots. Hydroquinone-free.
Suitable for all skin types.
Made in Canada.
BENEFITS
Contains the optimal concentration of the Cellex-C Complex required to work best on areas that are prone to develop sun and age spots.
Regular use will reduce the visible signs of age spots, helping to promote a clear, fresh even toned complexion.
Reduces visible discolorations caused by blemishes.
Can be used by those with sensitive skin.
When used as recommended, significant improvement in the overall appearance of age spots can be seen within 8–12 weeks of twice daily use.
ACTIVE INGREDIENTS
Cellex-C Complex, Glabridin, Green Tea, Plant Glycosides, Arbutin, Glucosamine, Ardenosine.
DIRECTIONS
Apply High-Potency Serum or Advanced-C Serum or Serum for Sensitive Skin to clean, dry skin.
Apply a drop of Fade Away Gel directly on to sun or age spots.
Apply Hydra 5 B-Complex or Skin Hydration Complex to face and neck.
Apply moisturizer or sunscreen if needed.
Use: Day or Night up to three times a day.
---
---
Works Well With
---
---
---
---