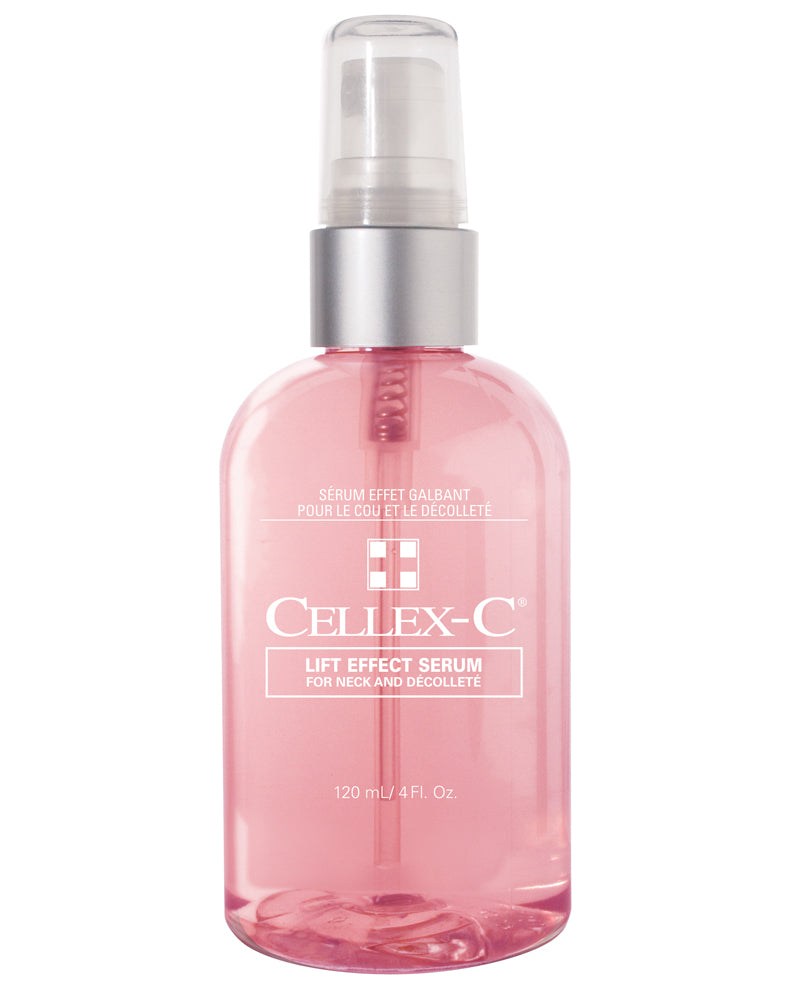 Enhancers
Lift Effect Serum
---
Get help buying. Call 1-844-423-5539
---
DESCRIPTION
Cellex-C Lift Effect Serum is a pale pink, crystal clear, fragrance-free liquid gel, specifically designed to lift, smooth and firm the neck and décolleté. Cellex-C Lift Effect Serum delivers specific ingredients known to help firm the skin's dermal/epidermal junction. This helps to restore a firm texture and tone to slack skin on the neck and around the jaw-line.
Suitable for all skin types.
Made in Canada.
BENEFITS
The unique formulation adds volume and resilience to loose, thinning skin on the neck.
Helps increase the elasticity of the skin to help reduce the look of 'necklace' lines and cords.
Creates a silky-smooth feel to the skin and helps minimize fine lines and crinkled skin.
Firms the appearance of the jaw and neck-line.
Overall improvement of the neck can generally be seen in 6–8 weeks of twice daily use.
INGREDIENTS
Galactoarabinan, Kigelia Africana, Beta (1,3) Glucan.
DIRECTIONS
Apply to your neck and 'v' of chest each morning and night.
Cleanse skin and hands thoroughly.
Apply any treatment formulation that you may be using, such as Cellex-C High-potency Serum.
Dispense two or three pumps-full of Lift Effect Serum into the palm of your hand.
Using the fingertips of your opposite hand, gently blend a light film of gel over your skin with long, upward strokes.
It is not recommended that you apply Lift Effect Serum to your face, as the visco-elastic film it produces is not suitable for facial application.
Caution: Avoid direct contact with eyes.
Use: Morning & Night.
---
---